it was a funfilled weekend.
we went to avilon zoo last saturday, with our friends (Mikee's ninong and ninangs). we hired a tour guide so we won't miss any spot. it was fun and very informative. but i wouldn't trust the tour guide so much. she said that 'roadrunner' is an ostrich. we're not experts, but we're not ignorant either. teehee.
we took a lot of pictures (hay ang barkadahang addict sa pictures — i finally found where i belong hahaha). some were Mikee sitting in a little pony, hubby with an owl on his shoulders (i got the same shot) and the barkada holding an albino python, which Mikee found to be fun-to-pinch.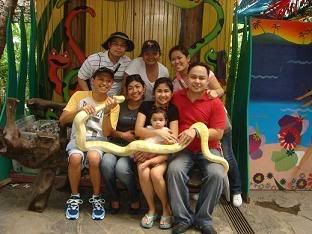 i took a video of my hubby feeding the arapaimas, which are a type of arwana and seemed like never been fed for a month. i was imagining myself slipping to their pond and my legs being devoured (waah, sadista?)
it was a hot afternoon. everybody was feeling a little sticky, someone suggested we take a swim after the zoo. but tired that we were, we opted to just eat steak at snackaroo.
we decided to just take a swim on the following day.
oh no, the boys needed board shorts! so off we went to gateway to visit speedo. hmmm, tired huh?
hubby bought a nice board shorts, a two-piece swimsuit for Mikee which is color coordinated with my swimsuit (no need to buy a new one) and board shorts for me too!
i also went to get Mikee's studio pics from blowupbabies at gateway.
we also went to visit hubby's brother who works as pizza hut branch manager. we waited for him since his shift was almost over.
he was hungry, we went to world topps (commonwealth) which is closed by the way. we ended up in grilla.
it was a tiring day.
sunday early morning, we went to club manila east for a swim. they have a kiddie pool (so big i think i could hold a party there hahaha).
and they also have a wave beach. Mikee was afraid everytime that there's wave.
but waves are turned off for about ten minutes. that's the time Mikee would crawl on the pool. (feeling nya nasa bed sya)
i got a text message from my mom inviting us to have dinner at trinoma.
hmm, not a bad idea. we haven't checked the new mall.
so when we got home, we just relaxed a bit and freshen up and strut our golden skin at the trinoma.
we had our dinner at crustacia, which was yummy.
they said they had slow service. we didn't notice 'coz when we got there, my family was halfway their dinner.
wow! it was indeed a funfilled weekend. family, friends, sun and fun.
and yes today is a very hectic workday in the office.
thank God for all these blessings.